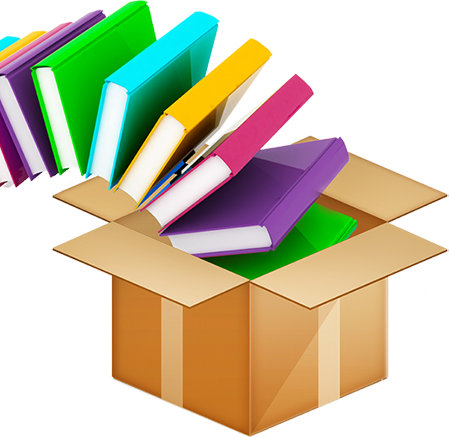 Your generosity in donating to the library helps support programs, the collection and our facilities. There are several ways to donate.
Donate Financially
The Collier County Public Library greatly appreciates monetary donations of any size. If you'd like to make a monetary donation to the library, please make checks payable to the "Collier County Public Library" and either mail them to us at Headquarters Library or bring them to the Front Desk.
Donate Materials
Your generosity in donating books to our library helps fund the Library's annual book sales and enhances the library collection. Donated materials must be brought in through the main entry at any branch location during operating hours. Books left outside are susceptible to weather and pest damage, and will be discarded. Anyone may donate monies towards a book or collection "in memory" of a loved one. The library places a book plate into the selected material and it may be shelved at your preferred branch location. Library staff are happy to select material that your loved one would appreciate.
Material Donation Policy
Items accepted for donation

Fiction/Nonfiction hardcover or paperback books newer than 2 years
Children's and teen books
Books in good condition
DVDs in good condition
Items not accepted for donation

Items that are dusty, moldy, worn, or torn
Music, audio CDs, or cassettes
Textbooks, magazines, newspapers, or Reader's Digest
Tax receipts are available if requested, but the library cannot assess a dollar value to any donations.
All material donations should be handed to an employee at any of our branch locations during operating hours.
Patrons should not leave any donations in the book drops or outside library buildings. Any materials left outside are susceptible to weather damage and will be discarded. Rev. 2/2023
Friends of the Library
The Friends of the Library was formed to establish a free public library system in Collier County. The ongoing mission of the Friends is to support and to enrich the services of the Collier County Public Library System. The Friends of the Library is a non-profit 501(c)(3) corporation. Membership dues & donations are tax-deductible.
The Friends of the Library is governed by a Board of Directors elected from the membership of the Corporation for terms of three years. The Board oversees the programs, projects, and financial status of the Friends; appoints committees to provide for the efficient management of the affairs of the corporation; and raises funds through contributions, subscriptions, dues, legacies, devises, and other legal means.
Visit the Friends of the Library of Collier County website to learn more about how the Friends fund the expansion and enhancement of educational, recreational and technological needs at all Collier County Public Library branches.
Friends of the Library of Collier County Website
Volunteer Opportunities
Volunteers 14 years of age and older share their time, talents, and expertise as valued members of an enthusiastic team within the Collier County Public Library system. Some offer specialized skills in genealogy reference and technical services. Many help with shelving of materials and shelf maintenance at a library convenient to their home. Many younger volunteers perform community service required for scholarship opportunities.
Collier County Government requires all volunteers to complete an online application. Your application will automatically be forwarded for consideration.  Thank you.
Volunteer Application
Volunteer Portal